Statement of Copyright Restriction
The Attrasoft program that you have purchased is copyrighted by Attrasoft, and your rights of ownership are subject to the limitations and restrictions imposed by the copyright laws outlined below.
It is against the law to copy, reproduce or transmit (including, without limitation, electronic transmission over any network) any part of the program except as permitted by the copyright act of the United States (title 17, United States code). However, you are permitted by law to write the contents of the program into the Machine memory of your computer so that the program may be executed. You are also permitted by law to make a back-up copy of the program subject to the following restrictions:
Each back-up copy must be treated in the same way as the original copy purchased from Attrasoft;
No copy (original, or back-up) may be used while another copy, (original, or back-up) is in use;
If you ever sell or give away the original copy of the program, all back-up copies must also be sold or given to the same person, or destroyed.
This Userís Guide and Reference Manual is copyrighted by Attrasoft.

© 1997 - 2001

Attrasoft PredictorPro for Windows
Version 2.8

Online order:

http://attrasoft.com
webmaster@attrasoft.com


Mail order:

PredictorPro 2.8
Attrasoft, Attn.: Gina
P. O. Box 13051
Savannah, GA. 31406
What is New?
This version introduces:

Multiple runs: You can run all the files in one directory, up to 2000 files.
Batch code: you can save your settings in a batch code and run the batch code in one click.
Attrasoft Dow 5.

Installing Attrasoft PredictorPro for Windows

To setup:

Click: Start, Run D:\setup (Assume D is the CD drive).

To Run from C: drive:

Click: Start, Programs/Attrasoft/PredictorPro 2.8


© Attrasoft 1997 - 2001
About Attrasoft PredictorPro
Making decisions based on your projection of the future events is a way of life. Attrasoft PredictorPro is a fast terabyte data processing tool for your database. It uses a sequence of numbers to predict the next row of numbers in line. It uses historical data to predict future possibilities. It does not matter what you want to predict.
90% of the work in using the PredictorPro is preparing your database containing your historical data. (Many corporations already have their database in place, which contains years of historical data. It is often overwhelming because of the sheer volume to mine the data for the purpose of strategic thinking.) The remaining 10% of the work is to operate the PredictorPro (a few clicks). The PredictorPro is especially good if you have a terabyte or gigabyte database because of its accuracy and speed.
Once your data is prepared correctly, the PredictorPro is able to provide you with rated predictions on any subject or any problem. Attrasoft PredictorPro can:

Predict Stock Market
Predict earnings and revenue of a company
Predict short term and long term interest rates
Predict commodity (gold, oil, corn,...) prices
Predict regional/worldwide price fluctuations for a particular merchandise item
Predict various indicators/indexes of the economy for strategic thinking and policy issues
Predict Dynamic Systems, Markov Chains
Predict system failure probabilities
Predict other complex systems
Ö

Customized versions of the PredictorPro are also available.


Online Order/Online Fax order:
Attrasoft PredictorPro for Windows
Version 2.8 ($494.99 + $5 US Shipping and Handling)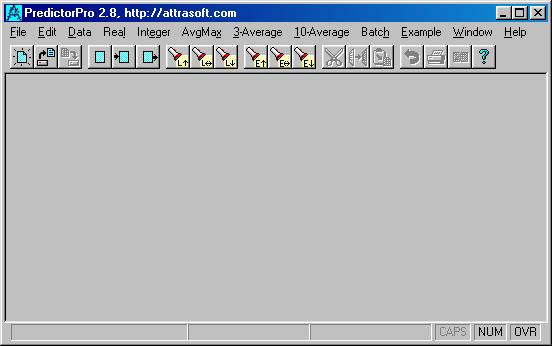 Mail Order: 499.99 (S&H included)
PredictorPro
Attrasoft, Attn.: Gina
P. O. Box 13051
Savannah, GA. 31406, USA
Send questions or comments to:
webmaster@attrasoft.com
or contact us at:
Attrasoft, P. O. Box 13051, Savannah, GA. 31406, USA

Copyright © 2001 Attrasoft, Inc. All rights reserved.