About
Attrasoft Boltzmann Machine (ABM) for Windows 95/98 simulates two types of neural networks:
ABM 2.7:
Nominated by PC Magazine for the 1996 Ziff-Davis Shareware Award;
Simulates two powerful types of neural networks, the Boltzmann Machine and the Hopfield Model;
If it fails to recognize a pattern, one retraining will fix it;
If you train with the wrong information by accident or by design, retraining will correct it;
Can handle conflicting training data;
Supports 1D and 2D translation, scaling, and rotation- symmetries;
Works for any pattern recognition problem;
Supports up to 10,000 external neurons;
Includes more than ten examples to walk you through, including one with more than 4,000 classes;
Learns more than 4,000 characters in 20 seconds and recognizes one of the 4,000 characters in 0.5 seconds, a speed unachievable by humans;
ABM does not lose focus or clarity as the net gets larger.
ABM 2.7 will allow a maximum number of 10,000 external neurons to be used. There are two basic types of tasks we expect the software to perform:
1. Classification: Given a pattern, find its class;
2. Determine a Pattern: Given a classification and part of a pattern, complete the pattern.
There are several reasons you should choose ABM:
ABM is large: ABM supports up to 10,000 neurons. Customized software can increase the number of neurons to 1,000,000.
ABM is fast: ABM can learn more than 4,000 characters in 20 seconds and recognize one of the 4,000 characters in 0.5 seconds.
ABM is accurate: ABM can solve any problem (for example, image recognition, prediction of stock market and Internet image search engine).
ABM is neural-net-size invariant, i.e., you can encode a problem with a smaller net and a larger net; the results for the larger net is equally good as the smaller net.
Customized versions of the ABM are also available upon request.

ABM Application ===> see other products.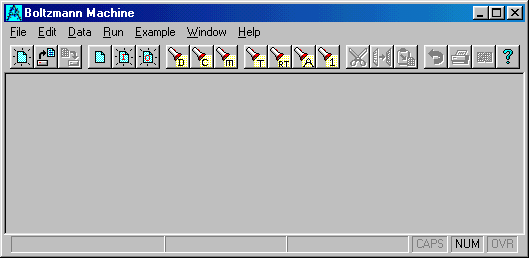 More Information:
User's Guide and reference manual.
Online Order/Online Fax order:
ABM for Windows 95/98
Version 2.7 ($94.99 + $5 US Shipping and Handling)
Mail Order: $99.99 (S&H included)
ABM 2.7
Attrasoft, Attn.: Gina
P. O. Box 13051
Savannah, GA. 31406, USA
Please join Attrasoft Discussion Group.
Send questions or comments to:
webmaster@attrasoft.com
or contact us at:
Attrasoft, P. O. Box 13051, Savannah, GA. 31406, USA
Copyright © 1998 Attrasoft, Inc. All rights reserved.