Q And A
About
Image Recognition
Data Mining
Products
Services/ Tools
Order
Shareware
New
Sample Application
Team
Links
Search This Site
Home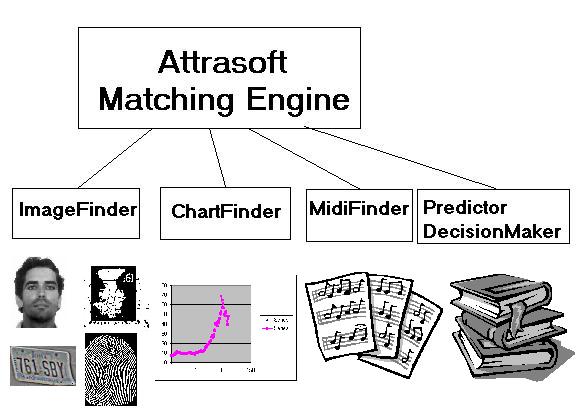 ---
How to read the following table:
Column 1, "Products", links to the product web pages;
Column 2, "User's Guide", links to the User's Guide of the products;
Column 3, "Example", links to quick examples.
ImageFinder Family: the ImageFinder family has 4 members:
---
AttraScan can verify images in product designs. For example, is the "newly captured product image" the same as the "previous enrolled product image(s)"? AttraScan can verify a person's face with his/her ID, or a Document with the document ID, or a car with Car ID, ...
---
---
PredictorPro 2.8 User's Guide and Reference Manual
Predictor 2.6 User's Guide and Reference Manual
DecisionMaker 2.5 User's Guide and Reference Manual
ChartFinder User's Guide and Reference Manual
MidiFinder 4.3 User's Guide and Reference Manual
PolyNet 4.0 User's Guide and Reference Manual
ABM 2.7 User's Guide and Reference Manual
TransApplet 5.1, User's Guide
PolyApplet 5.0, User's Guide

---
Libraries
Larger Neural Nets
Technology and Interface
100,000 $499.99
250,000 $999.99
500,000 $2999.99
1,000,000 $9999.99
Attrasoft Matching Engine (AME)
= ABM Technology + APN Technology
The Existing Product's Technology, Interface, and #Neurons:


The Customized Products can add:
Database Interface
More neurons
Both ABM and APN technology
To order: Online Order / On Line Fax Order
Send questions or comments to:
webmaster@attrasoft.com
or contact us at:
Attrasoft, P. O. Box 13051, Savannah, GA. 31406, USA