All Attrasoft products are Y2K Compliant!
What is Predictor?
Predictor is Attrasoft's application of neural network technology. Predictor analyze tremendous amounts of information available through your database or speadsheets, learning relationships and patterns. This enables Predictor to detect subtle changes and predict results.
What is Neural Network technology?
Neural network technology is software that functions much like the human brain, in that it has the capability to learn, accumulate knowledge, and apply this knowledge to new situations. Through a combination of observations and adaptive pattern matching, neural networks have the capability to learn and draw conclusions.
How do Predictor "learn"?
Predictor learns by observation. They must observe enough example behavior to identify the underlying patterns. Through this ongoing, self-learning process, Predictor can acquire far more knowledge than any expert in the field.
What are some potential business use for Predictor?
A spread sheet user or a database user can utilize Predictor as the basis for sophisticated business/medical information analysis, such as predicting future demand for products, enabling businesses to produce just the right amount at the right time. Please see the examples below. (You can easily image thousands of applications like this).
---
Making decisions based on your projection of the future events is a way of life. Attrasoft Predictor is a fast terabyte data processing tool for your database. It uses a sequence of numbers to predict the next row of numbers in line. It uses historical data to predict future possibilities. It does not matter what you want to predict.
90% of the work in using the Predictor is to prepare your database containing your historical data. (Many corporations already have their database in place that contains years of historical data. It is often overwhelming because of the sheer volume to mine the data for the purpose of strategic thinking.) The remaining 10% of the work is to operate the Predictor (two clicks). The Predictor is especially good if you have a terabytes or gigabyte database because of its accuracy and speed.
Once your data is prepared correctly, the Predictor is able to provide you with rated predictions on any subject or any problem. Attrasoft Predictor can:

Predict regional/worldwide price fluctuations for a particular merchandise item
Predict various indicators/indexes of the economy for strategic thinking and policy issues
Predict Dynamic Systems
Predict Markov Chains
Predict other complex systems
…
Example
Customized versions of the Predictor are also available.
Sister Software
DecisionMaker 2.5
More Information:
User's Guide and reference manual.
Q & A
Q: Where can I find Predictor 2.6 shareware?
A: Predictor 2.6 does not have shareware. Predictor 2.4 shareware can be downloaded here.
Q: What is the difference between Predictor 2.6 and predictor 2.4?
A: Predictor 2.6 has integer prediction options, multi-period prediction capability, weighted average calculation and summary of the prediction results.
Other User's Question and Comments
Online Order:
Attrasoft Predictor for Windows 95/98
Version 2.6 ($94.99 + $5 US Shipping and Handling)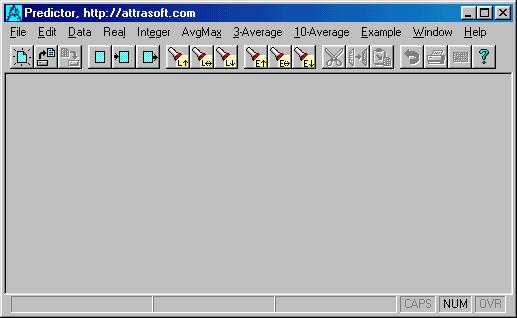 Mail Order: $99.99 (S&H included)
Predictor 2.6
Attrasoft
P. O. Box 13051
Savannah, GA. 31406, USA
Please join Attrasoft Discussion Group.
Send questions or comments to:
webmaster@attrasoft.com
or contact us at:
Attrasoft,P. O. Box 13051, Savannah, GA. 31406, USA
Copyright © 1998 Attrasoft, Inc. All rights reserved.