19. Input Options
The chapter project is located at:
The executable file is located at:
We also call this folder ".\". That is, ".\" is "c:\transapplet70\imagefinder\bin\Release\". When you start the software, the first thing you will see is Figure 19.1. ImageFinder requires a key image and a search source. Now, we will introduce a few input options, including:
Microsoft Access,

Avi video file, and

Live video.
This chapter will introduce the input design for Microsoft Access, avi video file, and live video; and the next three chapters will introduce the implementation.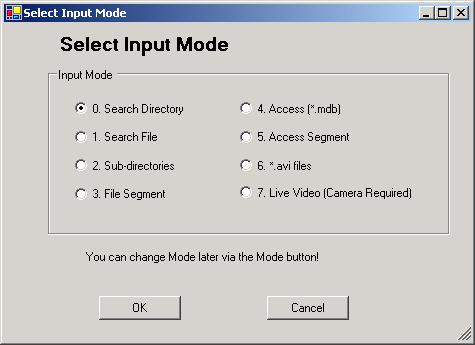 Figure 19.1 Input options.
The default search source is directory input, i.e. the ImageFinder will search through the images in a directory. The ImageFinder also will support a number of other options. See Figure 19.1.

---
Copyright (c) 2006 - 2007 Attrasoft. All rights reserved.