17.7 Results
Although the output file specifies the segment location, it is not obviously where (x, y, w, h) is in a given image. For example, it is not clear where (202, 42, 162, 126) is in image, image002.jpg.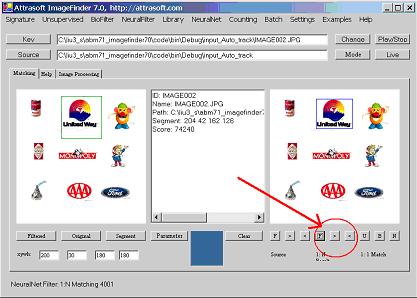 Figure 17.4. Matched Segment.
In Figure 17.4, the first picture box shows the training segment; and the second segment shows the matched segment.
To see where the matching segment is, there are three buttons in Figure 17.4:
F, > (Next), and < (Previous), that can be used to show where the matched segment is:
Click the "F" button to see the first matched segment;

Click the ">" to see the next matched segment;

Click the "<" button to see the previous matched button.
Figure 17.5 shows another matched segment.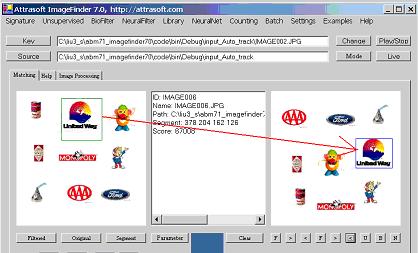 Figure 17.5 Matched Segment.
The GUI (Graphical User Interface) Implementation is beyond the scope of this software package. The source code for the input and output image display is given in the chapter project.

---
Copyright (c) 2006 - 2007 Attrasoft. All rights reserved.